Top Website Hacks to Enhance Your Customer Flow
Date :7 April 2022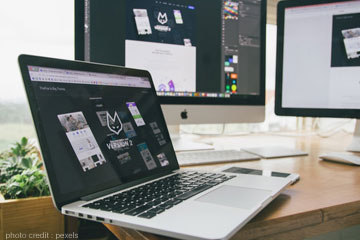 The pandemic has hit a lot of businesses, from staff members and customers to internal working practices, and the effects of the pandemic still remain. But one thing is abundantly clear; your digital presence is your best ally. A robust digital presence helps your business come out the other side. Marketing is not limited to the sense of paid search campaigns, link building, or anything complex. Moreover, the areas of marketing are highly advantageous. There are more straightforward ways for you to enhance the website's marketability.
At V1 Technologies, we're a leading website development company in New York. Our team focuses on the quickest and easiest yet most highly effective ways to make your website more marketable. The ultimate aim here is to help grow your business.
Attract more customers
Add internal links
Search engines give your most important pages a higher link value over less valuable alternatives. When you add internal links to the web pages, this helps boost your site's SEO. It results in shooting up the ranking and enhancing conversions.
Update GMB profile
The best way to earn the trust of your customers is to keep your business updated. The more professional and reliable you come across, the more remarkable that someone will click through the site from the search results. Google My Business (GMB) profiles have become vital.
Google takes direct ranking signals for your website from the GMB profile Make sure your reviews are positive, well-detailed, and relevant Make sure the contact details are precise and up-to-date with high-quality photos
Color consideration
The color combination has a significant role when it comes to the likelihood of conversion. Be it your 'contact us' button or 'buy now' button, by simply changing the color of the CTA buttons; you notice a big difference in your total number of conversions.
Our expert designers at a website development company in New York can help you choose the best option. Studying psychology in marketing can be a significant factor when working on marketing ideas.
Add a Pop-up
Pop-ups may be annoying. They can be a valuable tool to use when it comes to keeping customers engaged. Pop-ups can enhance conversion rates by approximately 9.38%. Pop-ups are easy to produce. It comes in a variety of formats. If offering something timely and exciting, i.e., a discount code, a pop-up is a welcome experience.
Most pop-up tools enable you to control how long they stay on the page. Our experts from a website development company in New York recommend not going anything longer than 30 seconds.
A/B test the headlines
The headlines and sub headlines make a significant difference in the number of customers you attract and the conversions you earn. More than 80% of users read headline copy. Therefore, it's essential to make the headlines as engaging and relevant as possible. Obviously, your customers could quickly lose interest.
Conclusion
Standing out online can be pretty straightforward. Any professional website development company will include professional hacks to meet your business demands. Get in touch with us as we help you deal with all your marketing needs.