Prominent B2B Tips to Enhance Your Online Business Conversions
Date : 14, April 2020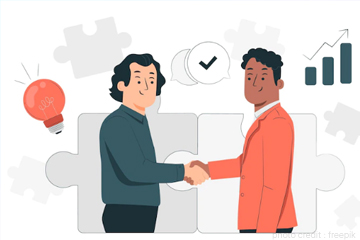 B2B needs to have a solid online presence. They need to showcase services and expertise so that people choose them over the competition. Whether revenue or recruitment, the websites can be the most powerful sales and marketing tools. In order to bring conversions, you need to have the right content on the correct pages. At V1 Technologies, we have long-term experience when designing B2B websites.
B2B website goals
Website goals. should align with your business goals, and every website should have at least one clear plan. There are page layouts, imagery, and copy and CTA buttons. These are all influenced by the ultimate goal for all that content.
When working on the design principle, conversions are considered at every step. The sitemap is the first area we put a detailed insight. It illustrates the website's structure and a high-level plan for what messaging and content a visitor will encounter once they scroll.
Most common website goals we've seen for B2B companies
● Book a demo or trial
● Get a quote
● Fill out a contact form
● Click to call, email, or get driving directions
● Provide an email address in exchange for gated content
● View specific mid-funnel content
Increasing website conversions page by page
If there's a case study or project on the websites, you're already on the right path. Reviews, testimonials, and custom contact forms are great options for conversions. Therefore, our web developers from New York don't waste time preaching something else. Some of the best ways to drive conversions include,
● Utilize areas such as page banner and introduction to establishing the expertise and passion
● Humanize the business story through technology
● Use authentic photography and video to let visitors see the people they would work with
● Include callout blocks to establish trustworthiness and authority
Persuasive process page
It can be challenging to put a glowing description of the services and capabilities on your site. Most of the time, even the most professional website development company may miss the opportunity to demonstrate credibility, leading to a low conversion rate.
The process page gives potential customers the chance to see precisely what is it like to work with you. It's a timeline that illustrates the typical stages of a project or a breakdown of the unique approach to problem-solving.
When someone visits the process page, they're looking for proof of your expertise and further differentiator. As a result, our website development company in New York use clear language that helps others approach you. Meanwhile, crafting an attractive Contact callout encourages a direct move to conversion.
Final Wrap
The best way to enhance your website conversion is to understand your customers. You need to understand who are your audience baseline, what they need and which stage they're at when viewing pages; it will ensure a smooth conversion.
Remember, things are getting competitive. It's much easier to deliver the right content with the right platform. If you're looking for a professional website development company in New York, we can always help you.