CMS Website and its Powerful Benefits for Online Business
Date : 03, Mar 2022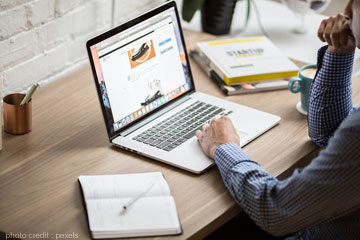 Considering over 68 million websites are built on CMS, it's particularly important for businesses online. CMS or content management system handles the site's infrastructure so you can focus on creating exciting and delightful content that results in more business conversions. Basically, CMS is a software application that enables users to build and manage a website without technical knowledge.
You can create, manage, modify, and publish content on the CMS in a user-friendly interface. Here, all you need to do is customize the design and functionality of the site by downloading or purchasing templates and extensions. Our website development company in New York can add multiple users in the back-end of the same tool.
CMS Functionality
To understand how a CMS performs service, you need to start with HTML and CSS. When working on changes, you need to download files from the server, open them and change the HTML codes. Now, this may sound pretty complicated, but a professional website development company in New York can help you with all your challenges.
Using CMS
CMS comprises two core parts, a content management application (CMA) and a content delivery application (CDA). These applications essentially handle all the code, database queries, and infrastructure in the back-end while you can work on the site's front-end.
Why go for CMS?
Content management system offers a wide range of benefits. Moreover, it can impact the set-up process, team productivity and online visibility. Here's what you must know
No coding knowledge
CMS enables non-developers and other users to work on websites. The no-coding has helped revolutionize web design. You no longer need to rely on web developers or designers if planning to establish an online business presence.
You can now create, customize and install extensions to add functionality to your site without coding. Here, users with limited technical resources and time can build a website for their business. However, in case you need any support, the website development company in New York can help you with it.
User roles and permissions
The CMS enables users to collaborate most efficiently and safely. All thanks to built-in user roles permissions. The content creators may have all the permissions they need when writing, publishing or managing content; they won't be able to delete plugins or alter sight's functionality.
Without a CMS, you'd have to code and create user roles and permissions in JavaScript.
SEO features and extensions
The CMS platform comes with in-built features. You also have add-ons to help optimize your site for search engines. The in-built or third-party tools help you,
Customize page titles and meta descriptions
Choose SEO-friendly URL structures
Create XML sitemaps
Integrate image alt text
Create 301 Redirects
Include breadcrumb navigation
Optimize page load time
Security features and extensions
CMS platforms come with built-in features and add-ons to help you secure your site. Some even offer a dedicated security team. WordPress is one such platform that offers seamless security features.
Predesigned templates
Most CMS platforms come with a selection of predesigned templates. Besides, you can quickly customize the site's appearance. At V1 Technologies, our website development company can help you go for the one that suits your business requirements.
Conclusion
Choosing a CMS can be exceptionally challenging; however, partnering with an expert team can help you meet all your business requirements. Connect with us today as we help you make the right business approach.