Why is a Polished Graphic Essential for Your Business?
Date : 11, November 2021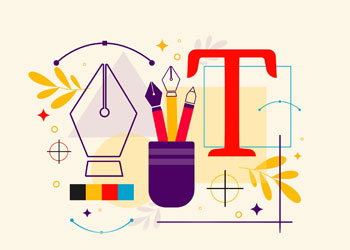 Don't ever expect successful outcomes from your banding unless a highly creative graphic designer powers it. It should be safe to say that customers are aware of polished graphics regarding online purchasing. Your business may not survive if your website isn't compelling. Besides, it helps you visually communicate the products of service' features, benefits, and differentiators to your target prospects and customers.
Remember, more than 90 percent of the information transmitted in the human brain is visual. Therefore, your website designer should include compelling easy to communicate products and services. Speed of absorption is the primary reason behind why people prefer graphics and imagination to overwritten text. Also, this is a highly essential component when it comes to business consideration.
The aim here is to take your brand to the bigger picture. Here's how a graphic designing company in New York helps you grab the deal.
Graphics for a powerful impression
There's a lot of competition among businesses of all scales. To withstand this with confidence, you need to grab a piece of market share. The graphic design agency creates a powerful impression for potential customers helping customers remember the products and, ultimately, the brand.
Without the assistance of a team, you'll never be able to achieve such an impression. Imagine what would happen to Apple, Microsoft, or Samsung with poor design quality.
Build a unique identity for your brand
Graphic design focuses on solid brand creation. This is an essential aspect of your marketing campaign. Logo comes in the first place when it comes to business identity. It connects the business with potential customers. Therefore, companies across the globe crave a possible and highly creative logo. That single aspect is strong enough to explain the significance of graphic design for your business.
Powerful communication mode
There's a good saying, "pictures speak louder than words." This explains how the design principle helps you with your business engagement. The coordination of powerful images, colours, and layout, enables you to deliver vital messages to potential customers. In fact, you don't need to introduce lengthy paragraphs. In simple words, your graphics are there to make the message clearer and straight forward.
Professionalism
Designs related to your business are a sign of professionalism. Now, this totally depends upon how the graphic design company in New York handles the challenges. A professional appearance distinguishes your products and businesses from others. It enables you to gain new customers. You can encourage existing clients to stick to your products and services. When in the market, you need to gain credibility. It plays an important role, mainly when the competition is intense. Customers are likely to purchase products that come with better credibility. A polished look could be a deciding factor. It helps convince those looking to build partnerships with your business.
Final Wrap
The selection of your design should be based on the original creation. Using a repeated template is not an option. A professional graphic designing firm in New York represents your business standards in the most prolific way.