Why go for WordPress for Website Development
Date :15, Dec 2022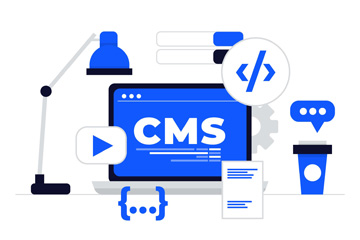 One of the most often asked questions is, "why should I choose WordPress website development?". Of course, you've come to the correct spot if you're one of those service providers looking for a solution. However, the reason why users should switch from any other platform to WordPress is a key concern shared by most clients. In this blog, our website development firm in New York will help you comprehend why WordPress is so effective for your online business.
It's a common misconception that WordPress is only a blogging platform. But that's not correct. The system was designed as a blogging tool and transformed into a powerful content management system (CMS). WordPress powers approximately 43% of websites on the internet. WordPress is used by several well-known organizations, including Time Magazine, Facebook, The New Yorker, Sony, Disney, and more.
First, let's look at why WordPress is the best platform for building your website.
Free of charge
You must be shocked to learn that WordPress is free to use. Downloading, using, editing, and installing are all free. It may also be used to create several websites. However, the WordPress software is not free here; you must have a domain name and web hosting. V1 Technologies can help you with all facets of website construction and hosting.
Continuous usability
WordPress is one of the most accessible platforms, especially for beginners. It is similarly adaptable. The interface is simple, and a sidebar lists the available menu options. Here, you can create articles and pages, design the layout, and add navigation menus. WordPress is also constantly updated. Therefore, you can utilize the most recent version. The same is true for the recurrently updated WordPress plugins and themes.
Completely personalized choice
WordPress users don't always have access to programmers or site designers. WordPress is the best option since it offers tens of thousands of non-technical users templates. A particular theme might be advantageous for any website (blog, business site, or online store). If you find it challenging to work on the topic, our website developers in New York can help. We can assist you with color adjustments, logo uploads, creating beautiful sliders, or using scripts.
SEO-oriented
Because you are in business, you must ensure customers can access your website. The website might not succeed if it doesn't draw visitors. Interestingly, WordPress was developed with search engine traffic in mind. Google and other search engines recommend WordPress because of its clean coding. Getting your business included in the search results won't be challenging. With the help of our New York-based website development professionals, you may optimize your website. There are many SEO plugins, and we utilize proven strategies to maintain you at the top of SERPs (search engine result pages).
Conclusion
Millions of people throughout the world receive benefits from WordPress. It also speaks more than 53 languages and supports thousands of websites. V1 Technologies is one of the top web design and development firms in New York. We offer bespoke WordPress website development at the lowest cost.