Why Go for Mobile App Development During the Recession?
Date :16, Mar 2023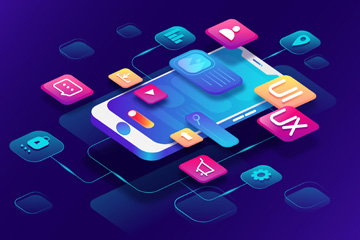 Businesses in every sector are seeking methods to survive as recession concerns grow. Small- to medium-sized firms have historically been hit harder by difficult economic times than bigger companies. In reality, the 2008 market meltdown resulted in the closure of almost 1.8 million small enterprises in the first two years.
Yet, 44% of small to midsize businesses are still not taking any action to get ready for impending recessions. Developing a mobile app with the help of a professional mobile app development company in New York may help your business prosper both during and after a recession, enabling it to do more than just survive.
Why during a recession?
Spending money during a rescission can initially appear counterproductive. To get ready for downturns, many business owners and decision-makers attempt to minimise expenditure, cut expenses, and build up cash reserves.
It's vital to cut the fat and be a little more frugal with your money, but that doesn't mean you should cease all of your spendings. When you weigh the savings you'll see in the short- and long-term, investing in a mobile app development company in New York is a small outlay. Not to mention the possibility of earning money.
When you check closely at a mobile app's price, you'll immediately see that you can pay it while still having plenty of money in the bank.
Boost customer retention
In a downturn, mobile applications are ideal for keeping clients. It goes without saying that during recessions, people tend to cut back on their spending. It's crucial to concentrate on retention during these periods because of this.
First and foremost, efforts to keep customers are much less expensive than strategies for acquiring new ones. Also, compared to merely a 5% to 20% likelihood of selling to new clients, you have a 60% to 70% chance of selling to an existing customer.
A mobile app development allows you to:
Create a client loyalty programme and advertise it.
To increase interaction, provide clients with push alerts.
Let your clients store their shipping and payment details on their accounts.
Enhance the shopping and checkout processes and make recurring payments possible for yearly or monthly subscriptions
With in-app assistance, your client service will be improved.
Use client surveys to get feedback.
For your most devoted consumers, establish a community message board.
Increase sales and revenue
Smartphones have become the most widely used device for online shopping. You're passing on a sizable possibility if you don't have a mobile app in this market. This is why.
Mobile applications convert typically 157% more often than mobile webpages
Whatever the business, a mobile app development just provides a much better buying experience than a mobile website. Consumers may convert with only a few clicks, get a tailored experience, and preserve their information on file. Because there are so many more steps in the transaction, mobile sites provide customers with far too many chances to back out of the purchase.
If your conversion rates rise by at least 150%, the expense of developing an e-commerce app will easily pay for itself.
Conclusion
Investing in a mobile app development company in New York now might save your company from failure in the future. Your mobile app's ROI will likely become profitable within the first month of release. We at V1 Technologies are committed partners in your success, offering more than simply a mobile app development solution. We are aware of the requirements for success in this field.