Why Do Your Car Rentals Need a Mobile App
Date : 09, Dec 2021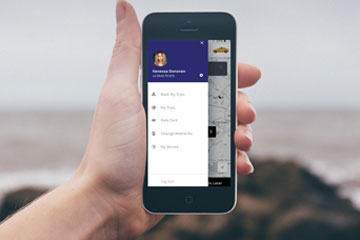 Car rentals are one of the most complex businesses. However, you need to ensure that its well-established, guaranteeing an intelligent and innovative customer approach. The car rental mobile application offers excellent convenience for users. Interestingly, since car rental services have made their debut on the smartphone platform, they have been spreading like wildfire.
The reason behind the success is the essential solution it offers. Let's take an example, you're going for a family trip, and with the car rental app, you get the car ready for you and your family at the airport. How convenient, isn't it?
This blog is basically dedicated to entrepreneurs and organizations who want to build a successful business model in the car rental business. Here, we'll cover every aspect of the development process.
Market size
Statista projects that by 2022, passenger car rental revenue generation in the US will grow over USD 43.1 billion. The rental industry is growing exponentially. Besides, the revenue generation of the market indicates that there are enough opportunities in the pool to start a sustainable care rental app.
Business model of car rental app
The automotive industry is booming. The pool of opportunities has attracted businesses. Therefore, entrepreneurs have discovered several business models to stay competitive. Here's a list of models that app development companies in New York can help you with.
Corporate car rental
Corporate car rental is dedicated to corporate officials who need to travel. These services frequently are exclusive to corporates, and rides are planned according to pre-set schedules. The car rental app allows you to schedule and re-schedule travel journeys as per the requirements.
Self-drive car rental
This business model is basically for customers who want to be chauffeured around and take the ultimate pleasure of driving. Slowly, this module is popularising. Here, you can offer varieties of cars, and the customer will be able to choose amongst them from the application.
Outstation car rental
For customers who love to go on tours, the application enables them to access the service. Basically, this feature is a convenient solution for businesses and families who need to commute to distant places.
Long term car rental
As the name suggests, this car rental service is for those who require a car for an extended period. This is an excellent service for customers who prefer renting over purchasing.
App features
Here, the end-users are customers, drivers and admin; things can be complex. Here is what an app development company in New York offers.
Easy login
A login portal with easy access via email ID or phone number adds extra stars in the user convenience column of a car rental application.
Car selection
Give your customers some of the best choices with the latest car rental application. When the app allows you to choose the preferred car, this could be a significant selling point.
Ride scheduling
You can simply schedule a ride with a tap from the feature-friendly application that the car rental mobile app offers.
Booking management
A user can easily manage all their booking in one place within the app. This saves time and enhances productivity by keeping customer-level management systematically arranged.
Final Wrap
The seamless application helps you with efficient business management as a rental company. Get the help of a professional to enhance your business growth.