What Web Design Agency in Dallas Does for a Guaranteed Website Engagement
Date : 11, June 2020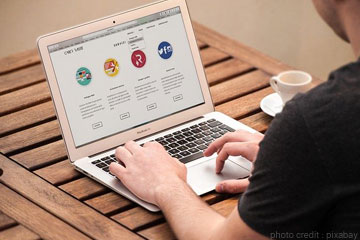 Business engagement is an important task. Moreover, it mends to creating successful customer growth at the shortest time. With the rise in technology, the internet has every enterprise equally trying to grab the opportunity. Moreover, cost friendliness is another factor that makes it accessible to all types of businesses. A strong online presence means that your service is genuine even if you do not operate any store.
The internet itself is a brand of trust and all the websites are supported here. On the other hand, a slight compromise on the quality may hamper your presence. So, the first thing that you need to take care is about your website. At web design in Dallas, V1 Technologies helps you build your business in no time. You should also know that there are many agencies in Dallas which can either make or break your business. A well-experienced agency handles your business challenges and smoothly glides across the complexities. As you stick with us, we will further let you know how we make your journey exciting.
Run with The Trend
It is a matter of fortune to have a team of professional web designers by your side. Clarity is the foremost thing that a web designer has to deal with. Moreover, a website with a clear perspective has much to offer than any other normal website. This not only affects the mindset of the customers but also has psychological effects in potentializing their trust. At our web design agency in Dallas, we use compelling tricks to bring that touch to your website.
Websites As Per Your Need
Now, most of the customers have less idea about websites and that's okay to be so. However, let us tell you how our webs design agency in Dallas help you. What you need to exactly understand is, there are different types of websites according to their requirement. You can run a single-page website or multiple pages. If you are a small entrepreneur, you should start with our starter pack. We have created this facility for budding institutions. Further, as you move forward, you can go for more development.
Development and Hosting
Website development is the primary part of digital presence. There are certain factors that developers keep in mind for online engagement. Think about it carefully. There are many websites linked to the search engine however, there are only a few websites at the top. Now, how come this happens. There must be something that keeps these websites at the top. Search engine optimized website has a strong influence on the digital platform and gives an upper hand when competing with others. Once the website is designed, hosting has its significance. Now, your business website is live and you will eventually see the growth.
At V1 Technologies, we offer the best service at the most affordable rate. We are the only web design service provider in Dallas that focuses on strong and dedicated web development service.