Top Social Media Marketing Dimensions You Must Keep A Close Eye on
Date :12, Jan 2023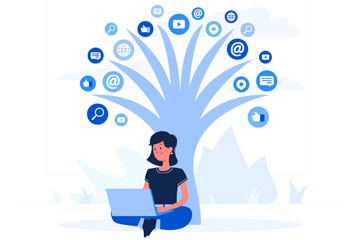 In order to enhance brand content and consumer outreach efforts, marketers may now access platform data from social networks thanks to their increased sophistication. For example, social media managers may examine data on their followers and content, combine it with engagement stories, and use the results to get a whole picture of how customers connect with the company. Simply said, social media analytics from a digital marketing agency in New York allows marketers to deeply understand the audience they are speaking to at any given time.
V1 Technologies can provide detailed social media insights for your brand activity on major channels, including Facebook, Instagram, Twitter, LinkedIn, and more. The primary areas where social insights assist marketers in reaching the appropriate people, saying the right thing, and creating brand champions are highlighted below.
Social posting optimization
Social media marketers spend a lot of time creating the ideal tweet or infographic to publish on Facebook, but if no one sees your post or tweet, all of their hard work is for nothing. Your social media insights data determine the ideal times to publish (and how frequently you should post on social media!). As a result, you may broaden your audience and engage more followers by using these essential blogging tips.
Social advertising
Unless you are "that brand," targeted advertisements are successful (don't be). Marketers merely throw stuff at the wall to see what sticks without targeting. Why venture a guess when you can be sure?
Brands boost the probability that existing and new audiences will view and interact with material on social media and online domains by pushing messages specifically designed for particular user groups. Remarkably, Facebook and Twitter encourage companies to advertise solely to customers who match the user profiles created by the company.
Your target audience can be best defined using social media insights. For example, what kind of material has gotten the most attention? What are the demographics of your audience? For example, when your primary audience is made up of ladies between the ages of 21 and 34, you could target guys over 50. By utilizing social media data, you can quickly identify your target audience.
Call-to-action
Engagement rises when communications are tailored to the appropriate audiences, which enhances the possibility that the audience will take the CTA. Your audience is more likely to respond to the call-to-action in the advertisement when the service is pertinent to them (like, click, sign up, etc.).
Using thoughtful CTAs, you must lead visitors through the purchasing process. In order to properly advise consumers, it is essential to use insights to ascertain the kind of communication they prefer, then create new messages that are more likely to catch their attention.
Email marketing
The days of emailing your whole email list in bulk with the same message are long gone. Instead, people anticipate relevant material when they sign up for brand emails. These days, you may closely monitor customers' online habits and actions to learn more about who they are, what they want, and how to best target a message to them.
Final Wrap
Marketers are better positioned to fine-tune content strategy and targeting for numerous elements of their brand campaigns with the help of automated data and competitive benchmarking. So, get in touch with us today as we help you make a difference.