Top Mobile App KPIs You Must Know for Every Vertical
Date :16, Feb 2023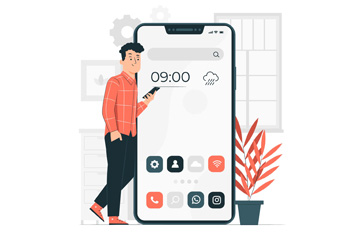 Key performance indicators (KPIs), as their name implies, are crucial for determining how well your mobile app works and how to improve it. Numerous KPIs may be measured by applications; however, the KPIs most important to your company may differ based on your app vertical.
Some KPIs, from customer acquisition cost (CAC) to retention rates, are universal, but the importance that an app accords to a given KPI varies on its objectives, benchmarks set by competitors, and other unique considerations. Here, our mobile app development company in New York will investigate the KPIs for mobile apps that matter most to each sector.
Ecommerce app KPIs
The secret to success with e-commerce applications is happy, loyal consumers who, ideally, have large wallets! What KPIs do you monitor to ensure that your consumers are satisfied?
Lifetime Value (LTV): How much are your users worth to you throughout their lifetimes? You may learn who your most valuable customers are, what they have in common, and how to attract more of them by providing an answer to this question.
Sessions per User: Every retailer wants satisfied clients who shop there often. A session is what a store visit would be in the digital world. You want your users to return often, whether merely window browsing or seeking something in particular. If they aren't returning frequently, an innovative push notification approach with deep links might draw users inside the app. The retention rates, which show how many users you maintain over time, may be improved using the same strategies.
Conversion Rate: Each app has its definition of a conversion, but in the e-commerce industry, applications likely want to consider more than just a simple install to first purchase. Consider measures to boost sales if your conversion rate is better than competing for e-commerce applications. For example, our mobile app development company in New York recommends strategically placing discount offers or reminders about sales, as well as push notifications or emails regarding abandoned carts, which might be helpful.
Food delivery app KPIs
Users of food delivery apps might be erratic. "Once clients sign up, 80% never or seldom depart for another platform," claims the international consulting firm McKinsey & Company. The good news is that user intent is strong, with 8 out of 10 searches leading to a purchase. This is not surprising, given that consumers seeking takeaway who are hungry are frequently eager to make a decision.
App Not Responding (ANR) – The last thing you want is a "hangry" consumer who switches to another app out of frustration with your unresponsive app. Therefore, you must act swiftly if your app has a high ANR rate.
Quit Rate: Do your users leave before they've finished onboarding? Or do they uninstall the app after placing an order? You may learn much about customers' journeys and where to improve by seeing when and where they leave your app.
Retention Rate: Just because food delivery apps have low retention and engagement rates doesn't mean you shouldn't work to raise yours. Engagement may be increased by making personalised offers that entice users to return for their preferred items, or when you know they are likely to be hungry. You may benefit from using these tactics to their fullest by getting consent for push notifications and location monitoring.
Conclusion
Any app can improve its user experience, optimise its ad spend, and generate a better user journey with the correct data. So, get in touch with a leading mobile app development company in New York and get everything sorted quickly.