Tips for Developing SEO Friendly Website from Leading Web Design Companies
Date : 12, November 2020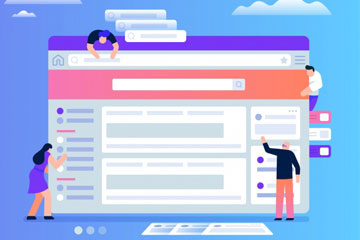 People prefer organic search listings due to their quality web presence. Thus SEO is a crucial component that helps your website rank at the top of the search engine. By investing in developing SEO-friendly website, you will not only help your business rank better in the SERPs but also help drive more traffic to your website.
Here's what web design companies recommend when going for a website design.
1) Run Responsive Design and Connect Mobile Users
It is very challenging to term elements that drive growth when developing an SEO-friendly website. However, responsive web design is definitely one of those vital elements that can drive exceptional business success. Integrating a responsive design can turn the tables.
Responsive design ensures swift usability whether a consumer accesses from a mobile phone, tablet or desktop. Your customers can get the best version of your website in their device.
2) Keyword Oriented Content
Content development is a vital part of the website. The quality of your content not only helps drive traffic to your site but also grabs the lead and engages them. It helps establish an authority in your field, specifically roll keyword that is relevant to your business.
Choose an area of commonality and trigger your keyword in such a way that makes search relevant. Web design companies strategically develop content through absolute conduction of keyword research.
3) Optimized Tags for Better Ranking
Start working on the header tags in order to make website SEO-friendly. Header tags are headings, and they designate the service of your website to web analytics. In order to optimize your headers, run keywords on it. Experts recommend incorporating essential keywords in the tile.
Such integration helps search engines understand the overall context of the page. Likewise, H2 & H3 should also include other essential keywords.
4) Internal Links for Search Engine Crawlers
Your website also needs to focus on the internal linking of your website. Internal linking helps search engines discover newer pages of the website and index accordingly. You may have an excellent page, but Google won't find it if not appropriately linked. Build a high-quality link and help Google track your website every time your customers seek you.
5) Enhanced Page Loading
A website's page load time severely affects the SEO friendliness. Suppose your website posses low loading speed. You may sooner or later face the wrath. However, site loading speed can be easily augmented with particular customization. Ask your development team to work on the area that makes your website run quick.
Final Wrap
There is a significant impact on SEO if your website lacks the right approach. Likewise, if you want to bring great engagement to your business, make sure you develop an SEO-friendly website. If your site is friendly to the search engine, you can boost traffic to your website.
However, if you hire a web design agency, make sure to ask all the requirements of optimization. SEO-friendly website can help your business grow in the shortest period.