The Significance of Quality Graphic Design for Web Development
Date :02, Mar 2023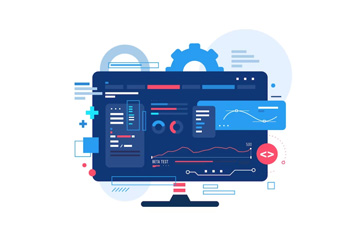 A variety of specialisations and tactics need to be used in website creation to accomplish corporate objectives. Many businesses still do not adequately utilise graphic design, even though it is an essential aspect of the development process.
Your company can succeed online in the long run by comprehending graphic design and its function in web development. It makes it simpler for you to attract new clients for your practice while also assisting you in achieving your branding and marketing objectives.
You may better grasp the crucial part a graphic design company in New York plays in the creation of your website by reading the information below.
Web development versus graphic design
The use of graphic design is crucial when speaking with current and potential customers. It gives you the graphic resources you need for all of your marketing initiatives. They comprise the user interface, graphics, typography, navigation, and other components of your brand.
By the use of copywriting, search engine optimization (SEO), site structure, coding, link profile, and other elements that make it work for your legal business, web development produces the online experience for your site's visitors. By ensuring that consumers can access your service as readily as possible, strategic website creation makes your site's content flexible across all devices.
These elements affect your firm's website's long-term success and determine how well it helps you accomplish your objectives.
Advantages of graphic design for growth
Your website's worth to users will increase thanks to professionals from a graphic design company in New York. Most significantly, it enables you to increase income by bringing in new customers and lowering the cost per client. Some of the numerous advantages that graphic design provides include the following:
Aesthetic appeal
Brand awareness
Improved customer experience
Getting to your intended audience
More involvement
Higher conversion rates
A website with visual appeal effectively conveys the value of your brand to your target market. It can also add to your site's credibility and further position you as an industry leader.
The goal
Users may locate the information they want as fast as possible, thanks to a reduced level of friction and an improved user experience. This increases user interaction with your website and may help you rank higher in search results.
You may be able to draw in your target audience using a graphic design that is based on market research. In the search engine results for the terms potential customers use to discover services like yours, it places you.
Your paid and organic search rankings will benefit more from a good visual design approach. Establishing a unified brand experience across all platforms, may enhance your social media marketing.
Conclusion
The ultimate goal of your website is to bring in new clients for your business. Users are persuaded to proceed with your sales process by the visual appeal of your website and other elements. Calls-to-action that are obvious and well-designed direct people towards your main offer. Understanding how to create this sales process is just the beginning. What matters most is creating a website that encourages visitors to hire your legal services.
You may gradually improve the graphic style of your website with the use of analytics data. When it comes to reaching your company goals, you'll learn what works with the help of a reputed graphic design company in New York.