Take Your Business to the Next Level with Social Media Presence
Date : 19, August 2021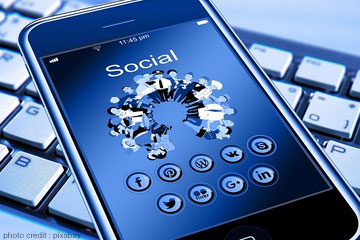 Social media's role in business is crucial. The customer gets most of the information they need from social platforms. So, if your brand or product does not influence social media platforms, you may hardly reach out to your potential customer baseline. Social media has changed the way businesses expected. Customers equally expect a more customized approach, targeted advertising, and regular follow-ups to make customers consider buying or sharing feedback on their purchase.
At the same time, social media is a relatively low-cost method to test new ideas, get credible feedback, conduct analysis based on customer behavior.
What is Social Media Used for?
Social media cover a broad term than what we actually think. The first thing that must have crossed your mind is Facebook and Instagram. However, social media also covers websites and applications where a user shares content in real-time. What started as messages and links have developed into complex technologies that attract customers with various tricks, including visuals, content, and sounds.
Social media platforms have become a powerful tool for marketing products directly to the customer. Based on the analysis, social media platforms offer goods and services that might be of interest to customers.
Advantages
Both start-ups and established companies enjoy the opportunities that social media provides. Customers voluntarily share their data and machines with other groups and target them accordingly. Digital marketing companies in New York utilize unique algorithms that help send the right message to the right person at the right time.
Besides, every business has its own social media marketing strategy that includes budgeting, targeting, content managing, and more.
Communication and Customization
Social media marketing allows your company to communicate with customers through social media accounts, respond to the most frequently asked questions, and resolve their concerns. Now, most of the clients feel privileged for using an approach that ensures higher retention rates and improved customer satisfaction.
Networking
One of the essential benefits is that it actually serves for networking. It not only helps companies find their clients but also creates extra room for partnerships. Social media has made it possible for increased referrals, retweets, shared posts, and more. Businesses can now build relationships with other companies, influences, and affiliates without leaving the office or home.
Visibility
One of the most important uses of social media is that your brand gets higher visibility. Images, visuals, and content matter if you want the business to sell well. Moreover, social media platforms expand this visibility to Google and other search engines where the posts can be found well.
Customer Feedback
You may receive immediate feedback on new ideas and products. The target audience will characterize the new ideas and offer you suggestions on where you should be heading. On the other side, the way you manage negative comments equally demonstrates how good you are at customer service.
Conclusion
Businesses, primarily the new ones, may not compete without social media presence. If the potential client hears about the brand, they are likely to search online. But without this, they are unlikely to convert into buyers. Therefore, make sure you have a strong presence.