6 Key reasons to hire a social media marketing service for your business
Date : 30, Dec 2021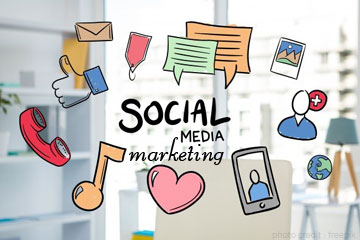 The whole world is online and social media has helped businesses influence their customers aggressively. Moreover, social media marketing is an essential part of your digital marketing strategy. Besides, it provides incredible benefits, helping you reach out to millions of customers. However, businesses that fail to run social media campaigns are missing a deal, especially when it comes to revenue generation.
Stay tuned to the article; we'll put detailed insights on possibilities your businesses can explore when you partner with a professional social media marketing company in New York.
Enhanced brand awareness
You should know that social media is one of the most profitable digital marketing platforms in today's time. The social media management team will develop a profile for your business and start networking with others when getting started. This helps you significantly enhance the brand's recognition. Your social media page can produce a broad audience for your business in the shortest possible time.
Economical
When compared with advertising, social media is basically free of cost. Creating an account and posting products and services on networking platforms doesn't cost a penny. However, for higher reaches, our social media marketing company in New York recommends you to go for paid advertisement. As your business gains popularity, you can slowly move towards paid advertising. Just a little investment, and you can expect significant returns.
Engage with customers
Every business needs engagement. Basically, social media platforms allow you to interact with consumers directly. Our social media marketing company develops two-way communication with the targeted audience. As a result, your brand will reach more audiences in real terms.
Focus on brand establishment
If your business has a social media presence, it is easier for your customers to find you. Social media platforms connect your customers, increasing customer retention and customer loyalty. The aim here should be to develop a loyal customer baseline. You should also know that both customer satisfaction and brand loyalty go hand in hand. Therefore, it's essential to engage with customers and still bond with them. Remember, you're not just limiting product promotion but building trust.
Customer satisfaction
Social media plays a vital role when communicating your business. Through the platform, you create a voice that's there to help customers by every possible means. Customers appreciate your service when they understand you're there for them. A brand that appreciates its customers is always ahead in the competition. You should know that your customers build your business and not you. Therefore, social media marketing helps you manage all your business concerns.
Enhanced SEO rankings
Social media presence is vital. Besides, for a successful ranking in SEO, social media platform has much to do. Moreover, simply optimizing the page is no longer a viable option. You should send a brand signal to search engines, and your social media platform does the same.
Conclusion
Social media marketing gives you an advantageous edge over others. By keeping up with trends, you can always stay ahead.