6 Features to Look For In Your Car Hire App
Date : 24, Feb 2022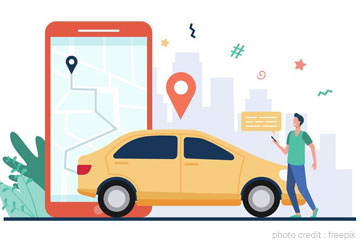 If you're a car rental company, a car hire app is integral to your business. Rental giants like Uber have revolutionised the market. But when you can offer a seamless application for your car business, you remove the hurdle of dealing with a third-party service provider. The advanced car hire app from V1 Technologies helps your customer experience an ease of car booking.
Each business offers some defining structure. In addition, this becomes a USP of that particular company. While one has an easy date-picker system for quick bookings, the other has featured plans for different vehicle types.
Here are the top features app development company in New York emphasise when going for your business app.
Easy booking facility
Accessible booking facilities should be the basic requirement. Besides, the booking system is the brain of any car rental mobile app. It is about providing a user-friendly booking interface. This includes a precise description of various car types available as per the number of people, separate pricing plans for members, special offers, the corresponding fare, easy date, time and location picking options and an visible CTA.
Flexible booking plans
When maintaining flexible plans for bookings, i.e., one-way trips, local and long-distance packages help the customers choose one according to their convenience. The best option mobile app development company in New York implements is customised fare plans, especially during holiday seasons. You can now offer various discounts and coupons that the customers can cash in later.
Mobile ready
A significant number of rental car users book via mobile phone. You need to ensure that the mobile app development company offers a responsive design to help cater to the market demands. Integration with the website provides seamless access. Your app must be compatible across all screen sizes, ensuring a smooth booking facility.
User feedback
Adding a personal touch is essential. You need to set up templates and featured displays for users. Data may be compiled from their previous booking preferences for frequent travellers, and a plan is suggested accordingly. A professional app development company in New York helps narrow down choices quickly. The audience no longer needs to go through the tedious process of choosing each reservation element.
Secure payment structure
Mobile apps must offer a quick, integrated and secure payment gateway. This lets users complete transactions effortlessly. For aggregator models, it is still possible to ensure optional cash collections—however, its best to maintain stringent security standards
Social media integration
Your customers are on social media. Moreover, social media sites are one of the most popular means of sharing experiences. A professional app development company in New York helps you take advantage when you get seamless integration. Going one step ahead is when your users can rent cars directly from their Facebook/Google+ accounts.
Conclusion
A lot of companies are now slowly focusing on a digital-first policy. If you wish to get a truly successful car rental business, it's best to invest in creating a beautiful application. Get help from the experts to meet all your business requirements.