SEO and Website Design Tips for Small Business
Date : 10, June 2021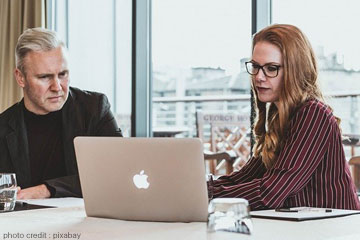 The online world is completely changing, and frequent algorithm updates by Google often send businesses scrambling. However, of all the changes, one thing remains the same, i.e, Google prioritizes SEO and web design to enhance the searcher's experience. However, Google never articulates its algorithm. There are clear and consistent SEO actions that Google rewards through boosted rank.
Some well-established SEO tips every small business owner needs to focus on.
Inclusion of Keywords or Phrase in Title, URL and Description
It is highly recommended to take full advantage of all the spaces search engines provide you. If a search query matches the key terms and the page is optimized, those terms will bolden up in all of the results.
The more you utilize those keywords and phrases, the greater is the chance to stand out. However, you need to ensure to stay away from keyword stuffing.
Get An Offer Backlinks
Backlinks can be termed the votes of confidence in a website as a reputable resource of information on a specific topic. If your website received a backlink from the other sides, Google noticed that people trust the website.
Also, you may see the web page rise in the SERPs. As a result, Google gives page preference to your website over others.
Website Design Tips You Need To Focus
Simple and Clean Layout
A clean and straightforward layout enhances your website's traction. However, most business owners may not precisely know what a clean and detailed design means. This means a solid colour scheme, a simple navigation bar and easy to read font. Also, there is an equal sign of the same template layout for all the pages.
Prioritize Quick Site Speed
Site speed may be affected by several different factors. This may range from the file type of an image to the responsiveness of the hosting server. Therefore, you might have to do some research on which is suitable for your circumstances.
Most experts take the help of Google Analytics and Google Search Console to check which pages are loading at the slowest. It also includes the average page load time, what issues exist while the page loads and how fast is the competitor's website loading speed.
For all such details, you may want to visit Google's PageSpeed Insights tool. This will focus on how load time compares to the average for both mobile and desktop versions.
Design and Optimize Site For Mobile Search
More and more people are going online via mobile phones. The site's layout changes as it loads to different screen sizes. You need to be aware of what it looks like and how it functions precisely. Also, make sure you understand how fast the site loads.
Google recommends running mobile friendly tests in order to understand how the website performs for mobile optimizations.
Final Wrap
Running a business online can be a challenging factor specifically for small business owners. However, with the proper support, such challenges can be sorted. Get in touch with the online marketing experts and make things seamless.