4 Reasons Why Graphic Design Matters For Your Online Business
Date : 26, August 2021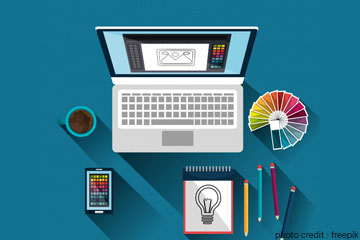 There's a vast difference between graphic design and professional graphic design. An effective graphic design requires more than just willingness. Your graphic designer has undergone lots of training and skill development in order to design that perfect page. Moreover, most companies leave it as an afterthought; it should definitely be one of those priorities.
Remember, only effective communication helps you sell products or services. When online, you have no option to communicate verbally. Therefore, for 99% of non-auditory, impersonal communication, visual design is the only option to make a lasting impression.
Good or bad, communication can typically involve some form of design. Having seen design works in every sphere, especially digital mode, it is essential for your company to partner with a professional graphics designing firm in New York.
As you stick to the article, V1 Technologies focuses on why designing principle matters for your business.
Initial impression matters
Graphic design matters because it creates a lasting impression on your customer's mind. Moreover, your customers judge business within the first few seconds of your approach. Furthermore, the judgment is based on visual appearance alone. Now, you must have understood the significance of visual presentation.
The high-quality design of the logo, brochure, or flyer helps you secure business credibility. You may partner with the most talented graphics design company in New York, but it doesn't matter wherever you reach if the customer doesn't get past a negative first impression.
Graphic Design makes the brand memorable
When your business brands themselves consistently, customers are likely to visit online, on your brochure, and in the store. Such consistency means that your business is now recognizable, professional, and trustworthy. All such things make your company valuable and memorable.
Set Your Business Apart
One thing all businesses have in common is that every one of them faces competition. No matter where you reach, there's always a formidable competitor for you, and you need to venture into the organization the right way. No matter what you already do to set the company apart, have you ever thought about competitiveness? Thinking that way, you can communicate the message visually in another way and set the business apart.
Great Design grabs customer baseline
Graphic designs make things pretty and sharp. It's all about influencing customers and compelling them to interact with your business. For instance, an aesthetically designed website will direct viewers to intended actions. Moreover, a well-designed pamphlet will churn more customers.
The professional graphic designing team utilizes the art to guide and keep the customers turning pages. These institutions use art to guide and influence customers leading to a more significant number of sales. So, whether you're a small-time business holder or a market leader, you may always stay at the top.
Final Wrap
Now, you must have understood the power of your graphics designing team. Remember, things can be pretty challenging at times, and your designing team knows the best. So make sure you have professionals on your side.