Learn How a Website Designer in New York Can Help Your Business Grow
Date :13, February 2020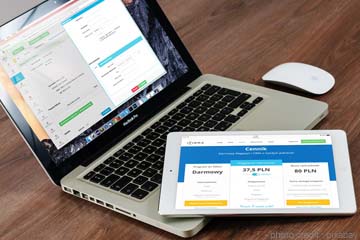 If you ask whether you can do without websites or mobile apps in this modern world, then the answer is a big 'NO'. It's pathetic to see businesses suffer due to the lack of modern techniques and methods. A rival competitor may win the rat race only by making wiser decisions and following newer business strategies and hiring a website designer in New York to build his company's website. Having a highly optimized website can help immensely in your business growth. If you are finding that hard to believe then keep on reading this blog further.
Benefits of Having a Website for Your Business
Your business needs a well-designed website to connect to the outer world. Here are some key benefits of having one:
1. Wider Reach
We all know that the digital world is the fastest medium of communication around the world. It grants a wider audience for you and your business. A website designer includes intricate details and attractive designs and logos to make your website look appealing.
2. Affordable
Building a website is no more a budget rattling affair! You can now get a website built through a website designer in New York at a very cost-effective price. V1 Technologies quotes the lowest price for a well-designed website for your business venture.
3. Business Reputation
A business website is your mirror image and creates a positive impression on your clients. It helps in building market credibility for your business.
4. 24x7 Hours Availability
A website can be reached whenever you want to! No time restrictions and no limitations! Such time flexibility and liberty give a prospering ground to your business. Your consumers can connect to your business anytime and from anywhere.
5. Customer Ease
Round the clock availability provides convenience to your customers and they find it easier to collaborate with you. Dealings get more easy and time-saving.
6. Greater Sales
Increased visibility and wider approach lead to increased market boundaries. A larger platform is bound to help in increased sales thereby increasing profits. A website designer in New York and his well-created website is a boon to modern business methods and an amazingly high sales figure can be achieved.
7. Stronger Customer Base
Your website is your representative and it helps in building customer's trust and loyalty. Bonding gets stronger with a sense of reliability. An increased customer base is the outcome of such positive vibes provided by your business website.
If you are considering getting in touch with a website designer in New York then V1 Technologies is the market's recommendation for you! Our pocket-friendly deals and unique web designs are sure going to sweep you over by surprise. We consider your prosperity and growth as our responsibility and give our 100% efforts to your business development. You can view our past work to know about our work pattern. Our expert team is specially trained to give you the best results and satisfactory response. We are also the best mobile app developers in the market. Give us a call and speak to our executives today.