Know How Mobile Application Developer Enhance Your Business Growth
Date :30, July 2020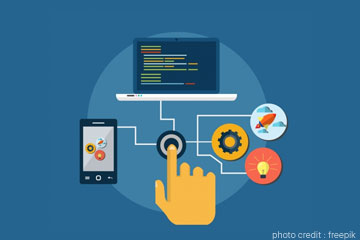 Mobile apps have stormed the market due to their efficient service. Moreover, apps have commercialised the local market by driving a greater amount of customer flow. Interestingly more than 60% of mobile users are hooked up into some form of applications. Therefore, this is the best time to explore the possibilities of a mobile app. While mobile apps prove to engage customers through various strategies, it is best if your service offers one. Thanks to mobile application developers who extend such options at the best price.
Mobile apps not only work efficiently but also help to market your service to global customers. Therefore, you can boost your loyalty and brand your service by just touching your phone. Now, let us not waste any time further and start exploring thepossibilities that a mobile app can offer.
Garners Customer Growth
A mobile app is a digital platform and it can attract customers on a very large scale. Having an efficient app can enhance business growth in the manifold. We all know how easy it is to download an app and get the service. Likewise, an app offers a huge facility not only to the business owners but also to customers who are in need of service. Isn't it an intelligent step to grow your customer at a zero cost!
Branding & Awareness
To grow your business you need to constantly brand yourself. What is better than the use of an application. As mentioned earlier, at zero cost you get to promote your business at the global level. Moreover, you can run your strategy to manage your business online too. These apps can offer many features like push up notifications, email subscription, rewards and discounts. All these features collectively help your business brand your service in the market.
Generates Loyal Customers
Businesses are in search of customers who value them. A mobile app developer ensures that your application offers a pleasant experience thereby earning the trust. Remember, it is not a days' work to earn the trust of your customer. E-commerce giant Ali Baba hustled for over a decade to have a market presence. Your mobile app is basically your digital store and you need to have a constant strategic and supportive engagement. If you are excellent at it, it's a win-win for your business.
Enhance Customer Experience
There is a constant up-gradation going around in the world of technology. Apart from your business productivity, you also need to ensure that you do not lag when it comes to mobile app service. Apps help businesses understand the product interests of customers. In fact, technology even considers recommending varieties of products that your customers may end up buying. So, better customer value only increases your sales.
Conclusion
App development is quite a complex procedure so we always recommend you to go for an agency that has a good market presence. It can sometimes be costly but it is always a worth once you start exploring the app.