Is Your App Ready for Upcoming Mobile App Trend 2022?
Date : 2, September 2021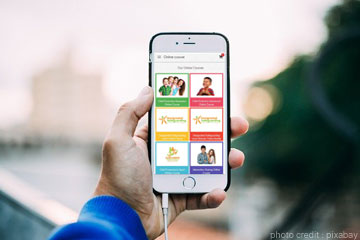 Mobile app development in 2021 has been lightning-fast. With the disruptive technology and new blooming trends, most companies are now leveraging as per the business trends. While the COVID-19 pandemic has been excruciating for many businesses, mobile app development continued during the crisis. Besides, the impact of global lockdown has shifted to more focus on innovative technology.
With that said, mobile app developers have precisely focused on mobile-first, contactless and connected services to make overall business management smooth. In this article, V1 Technologies will highlight the most significant trends in app development.
5G
Modern app development has the luxury of utilizing 5G technology, i.e., newest of all, allowing you to display incredible connection speeds. Together with improved security and an enhanced number of possible connections, the 5G networking standard is on the verge of becoming one of the critical 2021-2022 mobile app trends.
5G is definitely transformative for mobile developers. It expands the possible functionality of apps. The gaming industry is one such area that can leverage the technology for a seamless experience.
Voice Technology
In the past, voice technology has been presented merely as fun. However, it's grown to reach the top trends in app development when it comes to mobile and IoT platforms. Besides, in the U.S., over 66 million people utilize intelligent speakers at home. Also, users like interacting with their Alexa or Google Nest more than pressing buttons.
The audience for voice technology is likely to grow. Users segment is one such area that businesses can utilize to achieve better telemarketing.
App Clips & Instant app
Achieving a high conversion rate is definitely an achievement for every business. Mobile apps help make it possible. While companies have seconds to grab user's attention, persuading them to install the application is the most challenging part. As a result, this is where instant apps come into play.
The instant app has been a vital segment of the 2021 mobile app trends. It allows you to try the application before downloading it. Besides, they store minimal amounts of data and users are not obligated to install anything to use them.
Biometric Authentication
Biometric authentication has become common in today's time. However, with the advancement in technology, contact-less biometrics shall come into function. The latest technology will emphasize users' expectations of how security should function for mobile applications. For example, apps like Apple Pay and PayPal utilize facial reconciliation to identify and provide an additional level of protection.
Beacon Technology
Beacon technology is a hit in development. Moreover, beacons are small transmitters that connect smartphones via Bluetooth. They can be installed in your business space. Once the customer enters such a space, the beacons send signals to the company's app.
Beacons are already available in many stores, including Apple's and Macy's. While you can save your human resources, you can invest them in other areas.
Summing Up
Trends in mobile app development reflect what customers want to see in the software; if you're launching a successful mobile application, it's crucial to keep up with the fluctuating tendencies.