Design A Customer Engaging App From The Best iPhone App Designers
Date :26, March 2020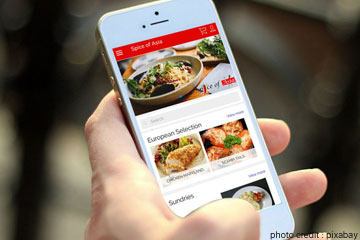 Is your business growth lagging? Are you not satisfied with your customer outcomes? Well, read carefully as we tell you why your firm is unable to make a strong presence as expected. However, as you read the article makes sure to note a few of the points that you need to consider when going for an online presence. Business houses including a corporate or local store, everyone is catering to online presence. Further, if you do general research, you will find that most of your competitors already have a strong online presence. In a country like the US, an eCommerce plays a major role and the same is that to your service.
Not wasting much time, we point out a few of the reasons why iPhone app designers are the need of the time.
App design
As you know the responsibility of an app designer is to design an application for your business. There are many things that one needs to consider when launching an app. Therefore, it is these designers who work towards connecting your service to the customers. Meanwhile, you should also know that apps help you save time as there is no need for communicating with the customers while dealing. Once the app is ready, you can simply launch it and start your service.
Ecstatic Design
Apart from app development, these iPhone app designers also make your app engaging by offering various types of features. This includes colours, contrast and background that psychologically attracts the users. To be precise, the first look can either make or break a deal. Considering all the facts, designers test series of pages to make it look alluring.
Brading and Promotion
You must be worried about paying a hefty amount for advertisement, but this is not with our service. We maintain your application in such a way that customers need not pay a single penny for promotion. Meanwhile, the system comes with social media plugins which enable both the designer as well as owner to promote the business in various social media platforms such as Facebook, Twitter, Instagram and many more. This feature has been developed keeping in the mind about the trending social prominence.
Order And Maintenance
V1 Technologies understands the challenges that business houses face. We make sure that your application is ready at the shortest possible time. Meanwhile, we are one of those organizations that coordinate with our clients at every step. As designing an iPhone app requires professional strategy, our technical experts are dedicated to developing a result-oriented and user-friendly application.
Ownership
There is a big confusion among most of the client regarding the ownership of the application. To be precise, once we handover the application to the owner, it is under your control and we have nothing to do with it. Further, the app control system(API) is designed in such a way that anyone can handle it smoothly. However, the technical aspects require professional support which the team from V1 Technologies offer 24x7.
V1 Technologies is a leading digital enterprise with global outreach. We offer quality IT solution at the minimal price.