How Your Taxi Business App Ensures Seamless Booking Service?
Date : 06, Jan 2022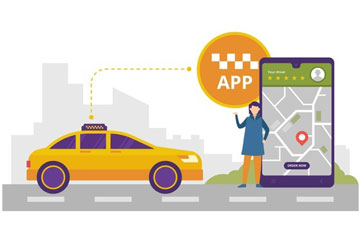 People no longer want to wait when it comes to transportation. Thanks to technological advancement, booking taxi service is just a click away. Moreover, customers can easily book their taxis and reach their preferred destination hassle-free. Digitalization in the taxi industry has enabled new players to grab the market. However, if you're still running the old race, now's the right time to kickstart your digital journey.
According to market reports, the global online taxi market is expected to grow USD 327.54 billion. With the rapid development in technology, investing in a taxi business app is the best option if you target the younger generation. Meanwhile, let's focus on how the taxi business app can benefit your business in the long run.
Broaden your business reach
The most critical benefit of investing in a taxi booking app is, it expands your business baseline. Moreover, you can tap potential customers seamlessly. Remember, today's generation sticks to the smartphone. More consumers book taxi services via the app. Hence, running a mobile taxi app for your business is one of the best decisions you'll ever make.
Brand credibility
When in business, brand awareness is critical. Moreover, your brand can either make or break the business. Have you ever wondered how Uber got into the market? Interestingly, Uber has completed 4.98 billion trips in 2020. Basically, they achieved this milestone with the help of a mobile app. Moreover, the introduction of the application has enhanced their credibility across the world; therefore, you could also take your taxi business to the next level.
Enhance customer loyalty
Ridesharing and taxi booking are the standard services any taxi service provider would offer. However, you need to look more than that. Providing more variability brings additional value to your benefit. The traditional service may only provide with few options, i.e., choosing a preferable car, driver, and more, but with the application, you can integrate more facilities, including exciting customer rewards and discounts.
Communication
When in business, you need to have transparent communication. Offline services aren't able to provide this. Therefore, you lose great deals in the long run. With the latest taxi booking app, operators can seamlessly manage crucial instructions and check availability. Thus taxi booking app will help you ensure transparent communication across the channels and customers.
Close driver monitoring
The offline system doesn't allow you to track your driver's performance. Be it fuel expenses or customer compliance; you can only rely on the information provided by the drivers or customers. When using an online app, you get the option to monitor the driver's efficiency closely. This includes everything, from harsh driving, fuel payment, or unfriendly behavior. The application allows you to take action immediately.
Cost-effective pricing
Prices have been a topic of argument. Things turn aggressive, which is unacceptable when you want to establish your business. The online booking app cuts all such changes. Before finalizing the taxi, customers get estimates, and it's up to them whether to go for it or not.