How Restaurant Takeaway App Are the New Normal
Date : 23, September 2021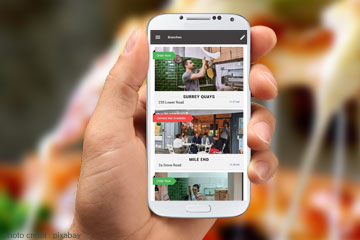 The trend of running branded websites and apps have become highly popular. Many businesses, including restaurants, are now developing mobile apps to offer seamless service. In fact, mobile apps have become an essential part of successful takeaway and restaurants. Online ordering has been rising, and the recent pandemic has emphasised the importance of digital ordering services.
Branded mobile apps
Branded mobile apps are pretty different from third-party food delivery apps. They are developed especially for a particular restaurant or brand. Instead of providing a wide range of options to the customers, the restaurant takeaway app comes with features such as the menu, logo and other essential details of the restaurant.
At V1 Technologies, we provide a reliable option for you to have an online ordering system along with branded apps and websites. This is specifically built for your takeaway business. Surveys and modern trends show that most customers prefer ordering straight from the restaurant instead of relying on general food delivery apps.
The primary reason for this fact is that consumers expect fair and discounted deals. When you offer a customised restaurant app, you have the option to provide rewards and coupons. As a result, customers can benefit from such offers. To be precise, branded apps enjoy massive popularity among customers.
Significance of Takeaway Mobile Apps
There are several reasons why takeaway mobile apps are the best option for your restaurant. Moreover, here, we'll focus on some of the key benefits that you may grab.
Accessibility
Your customers spend a significant amount of time on their mobile phones. The frequency of using phones is enhancing, due to which many people find apps to be extremely useful. Moreover, it's an easy way of conducting regular activities like ordering food.
Also, a restaurant that has an online ordering system can reach more customers. Besides, it makes their products and services more accessible. This leads to more sales and maximum customer satisfaction, which is highly essential to enhance the reputation of your business.
Improved marketing strategy
With the online presence, restaurants can ensure that they are able to reach a more significant number of customers. If the takeaway has a mobile application, this means people can have access to the services anywhere and anytime. Moreover, your business will stay in their mind every time they plan to order a meal.
The mobile app acts as a perfect marketing tool for the restaurant. Customers are able to get in touch with you with a few clicks. Therefore, it's best to consider running an efficient restaurant takeaway app for your business.
Customer loyalty
In today's time, building a brand and engaging customers is quite challenging. But, when your restaurant is able to offer efficient and reliable services, the customer will definitely stick to your benefit. Mobile apps are a quick and reliable way of boosting the overall image of your brand. As a result, this helps you enhance customer loyalty which is extremely important for the long term success of the business.