How Ecommerce Mobile App Development Benefits Small Businesses?
Date : 05, August 2021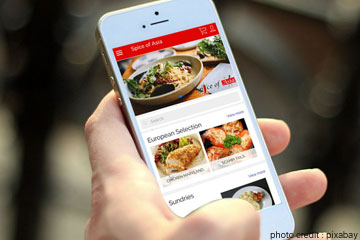 Most small business owners don't realize the untapped potential that ecommerce mobile apps have to offer to your business. If you're still debating whether it's worthwhile investing in ecommerce mobile app development, here are a handful of considerations when building a mobile app for small to large businesses. Moreover, if you plan to attract new customers, enhance sales, build your brand image or improve the customer experience, you need to own a mobile app.
Benefits
Ability to reach customers 24/7
Can build a productive mobile experience around the brand
Allows to implement effective mobile app marketing
Push notification
Offer social sharing
Enhance online activities and customer engagement
The app acts as a direct marketing channel
Enhance User-experience
Various reasons help your e-commerce store run well, but the most significant is the shopping experience that customers gain after they visit the ecommerce store via a mobile device.
The e-commerce industry is inherently dynamic and flexible due to the market forces that have an immense impact on the mobile app on e-commerce business and the performance of an online store.
Even a minute glitch while shopping might force a customer to switch to another website benefitting your competitors. A recent survey shows that over 80% of shoppers used their mobile devices even while shopping in-store for a product review, price, or searching for another store.
This is the reason why if you overlook the trends prevailing in mobile e-commerce, it is as popular as m-Commerce.
Why Do You Need an app?
The first and apparent reason is the constant use of mobile devices and, thereby, mobile business apps. Additionally, mobile applications can be integrated and aligned to ecommerce websites irrespective of the platform on which they are created. Those businesses that have their mobile app have succeeded at rocketing speed. It is easier to secure a deal with fewer taps on the screen.
Customer loyalty
A mobile ecommerce app shortens the distance between a customer and the brand and products as it puts them upfront. Mobile is an inevitable gadget, and the buyers are usually habituated to scroll through multiple applications whenever and wherever they discover a few spare moments. While the buyer may not click or interact on the app, they will definitely notice its presence with the icons blinking in the app's list. This works and turns the buyer to the product, and if the product or service comes with value addition, it will definitely strengthen the brand.
Enhanced Customer Engagement
The success of any ecommerce store depends on how it bridges the communication gap between the products and the customers. Some of the critical areas include tapping icons, discount offers, deals of the day, new arrivals, etc. These are some of the best ways to engage customers with the e-commerce store. Here, your contact with the customers remains live and long-lasting.
Once you run an ecommerce app, you win the game. Further, you get to promote your business with various modes, including push notifications to generate sales.