Car Hire App: Here's How an App Development Agency Powers Your Business
Date : 15, April 2021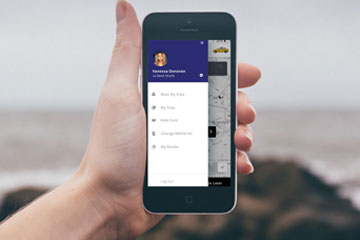 Car Rental Apps are now popularising in the market. The Covid-19 situation has forced car hire owners to provide service online. The car rentals app has helped businesses raise billions of dollars. The reason behind its success is the convenience that these companies offer.
Research has shown that by 2022, passenger car rental and leasing will grow approximately $43.1 billion.
These rental service providers are not only consistent but growing exponentially. In fact, there are enough opportunities in the pool with the right app development agency. Having a well-established car rental application benefits in numerous ways. Interestingly, venturing into the market won't be challenging.
Trending App Models for Car Hire App
Corporate Car Rental Service
Most corporate car rental service providers aim to serve corporate clients. Here, the facility that your company provides should be exceptional. Corporate car apps need to have a sophisticated chauffeur service. As these services primarily focus on corporate clients, rides are fixed according to these companies' pre-set schedule.
Self Drive Car Rental Service
For customers who want to enjoy the pleasure of a self-driven car, providing an excellent app for self-driving car service is the best option. This business model is rising amongst customers while providing vehicles of their choice at the cheapest. In fact, you can provide cars whenever you want.
Local Car Rental Service
Car rentals planning to offer taxi service or short tip service can develop a local car rental service. Be it airport pick-up and drop or a quick trip to the city, the app development agency allows you to cover everything. This is the most convenient service when starting your business as a car rental service provider.
Features That Your Car Rental Needs
The end-user here includes drivers, admin and customers. Therefore you need to understand the overall system carefully.
Quick Login
Login portal that comes with an email id or phone number is a convenient way to add stars to the app.
Car Choice
Option to choose gives a sense of freedom to customers seeking service. When a renter allows customers to select their preferred car, this could be a significant point of attraction for your business.
Ride Scheduling
If you plan to provide corporate car rentals, a ride schedule can get you a premium customer 24x7. The simple scheduling of rides helps customers get served within a few taps.
Manage Booking
Designing a car rental app from a mobile app development company allows admin to manage all types of complexities. Not only does it conserve your time, but it equally enhances the productivity of your business.
Cost Estimation
Pricing is a crucial part of the business. An app packed with clear-cut price estimation will help customers check the fares before they seek service. Therefore, if the customers are satisfied, they won't hesitate to avail of your service.
Multiple Payment Option
Facilitating multiple payment options is a preferable choice for customers. Payment is just a click away with flawless service.
Summary
We believe you must have understood how the car rental mobile app could benefit you. The important part is finding a reliable app development agency. Let us identify what exactly you're studying for as we turn ideas into a solution.