Tips to Choose the Best Graphic Designer in the USA
Date :06, February 2020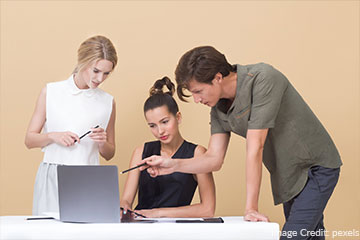 We live in a world of viewers and not readers! Pictures and images speak louder than what you can communicate through writings. Graphic designs are appealing bait for the eyes and advertisement by the means of this picture communication has captured the global market. A Graphic Designer in the USA can help you with amazing designs and themes suiting your business needs. Eye-catching designs are just like powerful magnets that can draw the attention of even the most uninterested ones.
Places Where You Can Use Graphic Designs
Graphic Designs are versatile drawings that can be used to advertise your company on any visible platform. You can use these graphics designs in:
• Social Media Marketing (Facebook, Twitter, Instagram)
• Roadside Banners And Hoardings
• Business Cards
• Newspapers And Magazines
A Graphic Designer in the USA can help you with unique creative work and can help you take your business to the next level. New customers and clients can be easily sourced in by this method and your business can experience a never before growth.
Services Offered By aGraphic Designer in the USA
• Indoor Display Design
• Digital Marketing Design
• Business Card Design
• Brochure Design
• Indoor Display Design
• Newsletter Design
• Poster design and many other areas for designing are covered
Choosing the Best Graphic Designer in the USA
Choosing a Graphic Designer in the USA is a tricky and diligent task and you just can't go randomly hiring any Graphic Designing Company. You need to check out certain features and qualities before shortlisting your choice of designers.
1. Multiple Revision Task- A graphic designer offering multiple revisions is always able to give you quality output and worthy designs. So always look out for multiple revision providers.
2. Affordable Rates- In this high-cost advertisement world, you must look out for every possible opportunity to save your hard-earned money. A reasonably priced designer is your savior and friend.
3. Unique Creative Designs- Eye-catching designs are always the most sought after thing in the graphic designing market. Look out for a creative Graphic Designer in the USA.
4. High-Class Printing – The printing quality and the final out result should be classy enough to make an impact.
5. On-Time Delivery- What is the use of any advertising method if it is not showcased on time? Timely delivery on the desired time slot should be on the priority checklist.
A Graphic Designer must have a detailed meeting with you before starting his work so that he has a fine understanding of your business strategies and needs. V1 Technologies is a classic Graphic designer in the USA with a fine knowledge of this work-field. We can pen down your imagination giving it a real feel! Our company is a pioneer in graphic designing along with a host of other services that can be easily viewed over our official website. To get an approximate estimate, you can ping us and talk to our executive. We assure you to give you our best efforts.