Google Analytics and How it Influences Your SEO Game Plan
Date :09, Feb 2023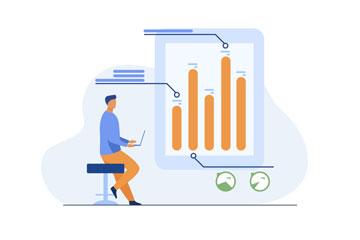 Google Analytics is a web analytics service that offers data and fundamental analytical capabilities for marketing and search engine optimization (SEO) needs. Anyone with a Google account can use the service for free, and it is a component of the Google Marketing Platform.
To monitor website performance and gather visitor data, Google Analytics is employed. For example, a digital marketing agency in New York can use it to identify the primary user traffic sources, evaluate the effectiveness of their marketing initiatives and campaigns, track goal accomplishments (like purchases and cart additions), identify patterns and trends in user engagement, and gather other visitor data like demographics.
How do analytics work?
Google Analytics uses page tags to collect user information from each website visitor. Every page's code has a JavaScript page tag. Each visitor's web browser runs this tag, which gathers data and transmits it to a Google data collection server. Then, using configurable reports, Google Analytics may track and display information such as user counts, bounce rates, typical session lengths, sessions by channel, page visits, goal completions, and more.
The page tag acts as a web bug or web beacon to collect visitor data. However, because the system depends on cookies, it cannot gather information from users who have disabled cookies. Nevertheless, Google Analytics has tools that may assist users in seeing patterns and trends in how people interact with their websites. Features make it possible to collect data, analyse it, monitor, display, report on it, and integrate it with other programs.
Users may store profiles for many websites inside the Google Analytics dashboard and either view data for the basic categories or choose custom metrics to display for each site. Content overview, keywords, referring websites, visitors overview, map overlay, and traffic sources overview are among the monitoring categories.
The dashboard is accessible through a widget or plugin that may be embedded into other websites and can be accessed on the Google Analytics website. Also available from independent suppliers are dashboards for Google Analytics that are customised.
Metrics
A metric is a benchmark for a numerical measurement. For example, users of Google Analytics may monitor up to 200 different indicators to assess the effectiveness of their websites. Our digital marketing agency in New York emphasises some of the most common KPIs, while some may be more important to particular firms than others:
Users: A user is a distinct or new website user.
Rate of bounces: The proportion of visitors that just looked at one page. These users only caused one request to be sent to the Google Analytics server.
Sessions: These are the collection of visitor interactions that take place throughout a 30-minute activity window.
The average length of a session: How long does a typical visit last on the website?
Percentage of new sessions: The percentage of first-time visitors to a website.
Per page session: The typical quantity of pages viewed every session.
Goal completion: The number of visitors that carry out a specific, desired action. Another name for this is a conversion.
Page view: Amount of pages seen overall.
Conclusion
Businesses may get various data kinds from Google Analytics for marketing purposes. To improve data accuracy, Google Analytics now uses machine learning instead of third-party cookies and has an entirely new user interface.