Enhance your SEO tactics with these proven techniques
Date :20, Oct 2022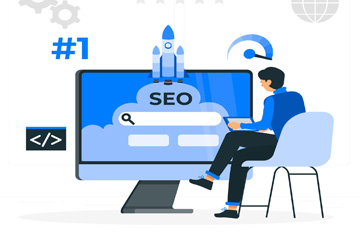 The economic slowdown still continues to affect many organisations, including staff members, clients, and internal working procedures. However, one thing is very clear: your best ally is your online presence. A massive web presence aids in the recovery of your company. Marketing is not just about link-building, sponsored search campaigns. There are simpler methods you may use to increase the website's influence.
We at V1 Technologies are one of New York's top web development companies. Our team focuses on the simplest, fastest, and most powerful strategies to increase the marketability of your website. The ultimate goal is to promote growth.
Influence your audience
Link building process
If there are no internal connections in the content of the web pages, whether they are specific product pages or already-existing blogs, you risk a valuable opportunity. Plus, links are preferred by search engines. It assists search engines in determining the relevance and purpose of the information. Additionally, you may assess the website's general quality and structure.
Search engines appreciate links to your most important pages more than links to less essential ones. Internal links are beneficial for improving the SEO of your website. As a result, the ranking soars and conversions are improved.
GMB
Keeping your company up to date is the wisest method to gain your clients' trust. The more credible and professional you appear, the more likely it is that a user will click on your website from the search results. GMB (Google My Business) profiles are becoming essential.
Google uses the GMB profile to influence how your website is ranked. Make sure your evaluations are favourable, thorough, and pertinent. Also, it's important to ensure the contact information is accurate, current, and includes high-quality images.
Focus on color
The possibility of conversion is significantly influenced by the colour combination. Whether it's your "purchase now" or "contact us" button, you can significantly increase your overall conversion rate by just altering the colour of the CTA buttons.
You may select the ideal choice with the help of our expert designers at a website development company in New York. When developing marketing strategies, running a psychological approach in marketing may play a big role.
Pop-ups
Pop-ups can bother you. They can be an effective technique for retaining clients' interest. Conversion rates may be increased by pop-ups. Pop-ups are simple to make. It is offered in a number of forms. A pop-up is a pleasant experience if it's delivering something current and intriguing, like a discount coupon.
You can usually choose how long pop-ups linger on a website. Any professional website development company in New York advises against going more than 30 seconds.
Headlines & subheadings
The number of clients you draw in and the number of conversions you generate depend heavily on the headlines and subheadlines. Over 80% of visitors read headlines. Making the headlines as interesting and pertinent as possible. Naturally, clients could become interested rapidly.
Conclusion
It's not too difficult to stand out online. Any reputable website creation firm will use specialised hacks to satisfy your company's needs. Contact us so we can assist you with all of your marketing requirements.