Enhance Your Online Growth by Fixing Google Ranking Issues
Date :14, July 2022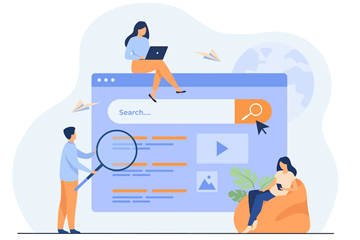 When it comes to generating leads, the potential of your website is limitless. However, website development companies strongly advise making a few simple adjustments if that isn't working. Additionally, failing to rank in Google indicates that you must focus on search engine optimization (SEO).
We at V1 Technologies are a well-known digital marketing company in New York. We have assisted companies across the globe in leading the world of internet marketing. Additionally, we streamline procedures for business owners.
Why isn't the site gaining momentum?
While it's normal to wonder why your website doesn't rank when all of your competitors outrank you in every service, the only answer is to dive deeper. The solution is SEO! But these are why you fail to have a competitive edge over others.
Missing Keyword
Google is a genius, but you must explain who or what you serve. This is the initial stage to grab the position using the keywords that users look for across the titles and content of the website. Our digital marketing agency in New York includes specialists who have frequently come across audits with absolutely no keyword.
Lack of content
It's possible that you neglected to focus on the content portion; as a result, your site won't rank at all. Always keep in mind that content is king. The crucial Google updates over the last several years have raised the emphasis on prioritizing websites with valuable and well-written content. The algorithm chooses informative content over anything else.
Repetitive Content
Although no content is a liability, irrelevant work can hurt your company's online performance. Poor content quality might prevent a website from ranking well on Google. Additionally, Google deliberately devalues websites that overuse keywords. Never copy keywords from another website.
Poor links
The digital profile gets a raise when your website is linked to by other trustworthy websites. Additionally, your website's rating will finally improve. However, backlinks from questionable websites might lower your website's ranking on Google. As a result, you must be very careful about what links with what. At V1 Technologies, one of the first things our marketers do is audit the links to ensure there are no harmful backlinks.
Poor mobile responsiveness
You should examine the website's mobile-friendliness even if it doesn't appear in the right place. Additionally, outdated websites may be their own worst enemy. A website that isn't responsive won't work well on a phone or tablet. Websites that are not mobile-friendly suffer penalties. They will therefore struggle to appear in search results. Additionally, you must revamp the website if it is not responsive to mobile devices.
Paid advertising campaigns
If you don't have the patience for organic exposure, paid advertisements are the best option. These are a few.
Adwords
Adwords or Google Ads enable your website to appear at the top of the searches for your industry. It is a compelling SEO solution.
Advertising on social media
Some websites where you may promote your services are Facebook, Instagram, and LinkedIn. Social media platforms generate new leads, increase website traffic, and enhance brand exposure.
Conclusion
So, these were some of the tested techniques to fix your website's ranking. Reach out to the experts in case you need any help.