Develop Your Mobile App for Business Today To Achieve Success
Date :27, June 2019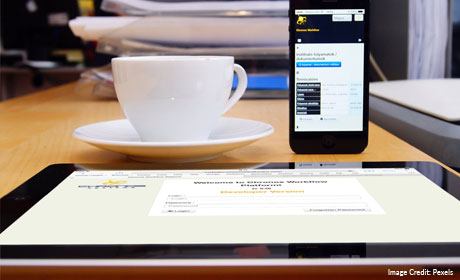 How often have you felt the need to jump into the social marketing world? With the online marketing trend, it is foolish to stay back and crawl to achieve desired results. With mobile phones and tablets rapidly becoming the hardware choice, there has never been a better time to get a mobile app for business and for that you would need to hire the best mobile app designing company in town. Mobile applications are the easiest and the trendiest way to explore and expand your new as well as existing business. There are uncountable advantages that a mobile application for business offers you.
What Does a Mobile Application Do For You?
A mobile application synchronizes all the staffs and team of workers related and makes all the business transactions transparent. It coordinates all the threads of a business from the factory manager to the sales team to the delivery boy.
It builds brand awareness as a part of the marketing campaign.
A mobile app for business creates room for new or additional revenue generation.
It helps to get a leap in sale figures by reaching a larger number of customers.
A buyer can be alerted of the latest notifications through a mobile app for business.
It creates a comfortable shopping experience.
Easy payment methods through a mobile application is an added benefit
Easy customer feedback throws a fair light on your market reputation
Mobile apps eradicate the need for ineffective telemarketing
It cuts down the printing costs of bills and is eco-friendly
Bounce back rate of customers is high on a mobile app thus it helps retaining old buyers.
Who Builds a Mobile App For You?
Mobile apps are built by app designing companies who have technicians and experts to look after every detail needs of your enterprise. They subsequently build a mobile app for your business as per your requirements. A mobile app for business needs maintenance and continuous upgradation from time to time. V1 Technologies is a preferred choice in the USA as well as other countries like the UK and Australia. They are successful makers of many mobile apps that are creating benefit for its owners. The USP of V1 Technologies is that they build affordable apps so that even a small business undertaking can go for it.
Without further thoughts and doubts contact V1 Technologies today for a positive change in your business undertaking. A mobile app for business can change your fate and you are sure to love it and recommend it to your friends.