Contact the Best App Developers in the USA for an Enhanced Business
Date :25, July 2019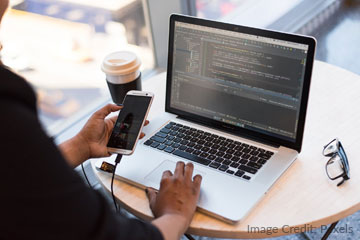 Ever thought about getting a customized mobile app for your business? If still not, let us throw some light on the current fact figures. Today about 90 % of the US population are active mobile users with the internet being the main medium of connectivity. Just imagine how long it used to take to spread some news before but today it all happens in a flash through the social medium. Internet being a powerful weapon today, it would be foolish if we are unable to utilize it to its maximum. You can make an unimaginable leap in your business if you get a mobile app built by the best app developers in the USA. Let us first explain to you how all thesewill happen during the stages of app development.
How Can a Mobile App Help You?
A mobile app built by the best app developers in the USA is sure to change the fate of your balance sheet. Although it is just a small icon on the customer's mobile screen, yet it is the window of communication between the buyer and the seller. A mobile app can help in the following ways:
It is the digital gateway between the buyers and the sellers and helps to builda connection between the two.
It gives the customers a walk through your digital shop and gives the buyers a fair idea about your business.
The app makers popularize your business logo and it is the identity of your mobile app and firm.
All the products and services sold are listed in the app for the buyer's convenience. They can browse through the app and decide what they want.
The prices are also mentioned in the mobile app for comparing and checking out.
All the discounts and upcoming offers can be notified to the customers from time to time.
Easy payment options make things easier.
Time taken for product delivery is mentioned in the app.
An app bridges the gap between the two parties and a direct chat facility is provided on the mobile app where direct communication between the buyers and the seller is possible.
All the above features make transactions easy and thereby results in increased sales.
The growth and prosperity that a mobile app brings to your business is an undeniable fact. But the most important factor in choosing the right app developers in the USA who understand the specific customization that your business app requires.V1 Technologies is the best app maker in the USA, goes through a detailed analysis of your business needs and comes up with the most suitable app for your progress. We build websites and mobile apps with the help of our trained developers and try to bring out the best solution for you. Fair pricing and the most cooperative after-sale service is our USP. Our website link is given here for further information.