Are You Sure Your UX Design is Mind-Blowing? Here's What You Must Offer
Date : 17, Mar 2022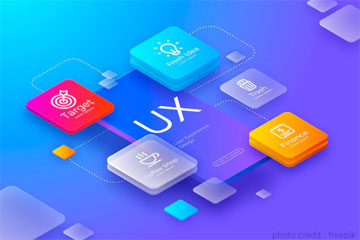 There are many websites with functionalities that are simply awesome. This is beneficial for service providers who plan to target the audience precisely. Remember, while surfing a website, it all comes to user experience. But first, you need to understand what 'user experience' means in relation to the business website; also, it matters now more than ever before.
So, let's not waste any time further and start focusing on why UX design should be engaging.
What is UX design?
As a service provider, you don't have to design yourself. However, basic knowledge of UX will give you an upper reach. Here's what you must keep in mind.
● UX design helps move people through the sales funnel
● UX design impacts the bottom line
● UX design affects the search ranking
Basically, User experience design is an interaction design. It's more about crafting a website based on usability. It's a blueprint covering everything, i.e., the number of window placements. It ensures the website has enough places to put all the stuff in an organized way.
At V1 Technologies, our skills typically start with research as your company intends. The key areas here include,
● Their pain points
● Their drivers
● Their goals
● Hook Framework for customer engagement
There are many things a UX designer does to make your website aesthetic.
You need to consider the content too, and in case any content goes missing, the designers have the plan in place. It's more about setting a logical architecture for all the content. These experts accomplish it through decisive placement and structure of menus, callouts, call-to-action (CTA) buttons, featured or related content suggestions and the other content on a page.
Target the bottom line
Your website is here to create a brand, make sales or earn a lead. Every site aims to have a good end goal. A great website has a simple and satisfying experience. When you go for UX consideration at the best website design company in New York, it directly impacts leads and sales. Here's how you must specify design principles,
● Menu- size, location, copy
● CTA buttons- context, placement, copy
● Cart- number of steps to purchase, copy, error messaging
● Forms- placement, number of fields, copy in and around fields
● Trust and credibility content- location, prominence
● Gated content- location, form considerations
● Reliability- visible signs of data security, messaging
● Mobile-friendliness- easy to complete tasks on any device
Enhance your website's search ranking
Leading search engines like Google, Yandex and Baidu aim to create their own happy user experience. That's how they dominate the search engine market. Our website design in New York delivers efficient search results using Machine learning, AI and natural language processing.
UX design is known as interaction design; therefore, a professional firm will always plan for positive interaction noted by search engines. Indeed page title and meta description might be the reason to earn clicks from the search engine, the experience the visitor gains tells Google if it's a good site and should fetch a higher ranking or not.
Conclusion
Whether you plan to redesign your website or get a new one for your business, focusing on the user experience is something you must not neglect. Take the expert's help today at V1 Technologies, and we'll help you figure out the rest.