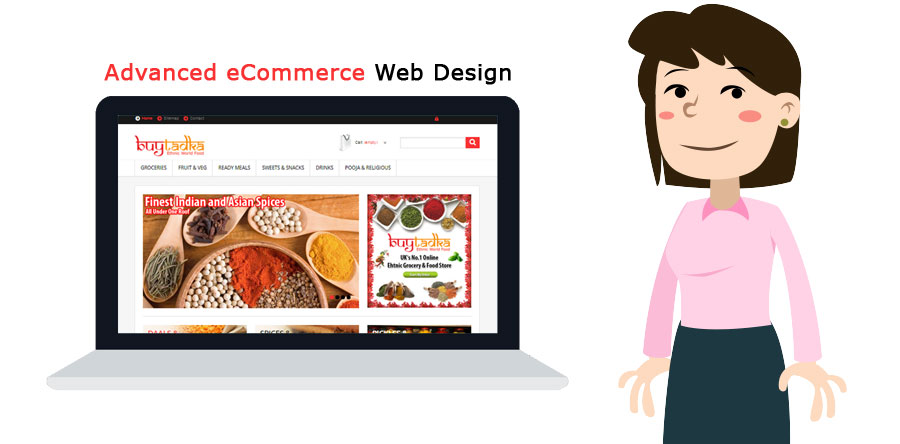 E-commerce is the most popular way of shopping nowadays. It provides convenience, comfort, and ease to the shopper. Creating an effective and efficient e-commerce solution for your business requires a lot of advanced as well as robust features to be implemented by the web design and development team. We at V1 Technologies offer you wonderful e-commerce web designs to woo your customers and encourage them to shop more and more on your website. Our designing and development team offer a lot of advanced features using AI and other intelligent algorithms to Create A Wonderful User Experience.
Why Do You Require an Advanced E-commerce Web Design?
Commercial websites are expected to offer a lot of features to its users. People spend a lot of time on shopping through e-commerce websites. So, offering them with a lot of exciting and high-end features is important to get repeat visits. Advanced and new designs attract more users and encourage them to spend more time exploring various features on the website.
What V1 Technologies Offer You in The Advance E-commerce Web Design Package?
Attracting traffic to your website is the most challenging part of this competitive market. We help you beat the competition.
We ensure an easy and convenient shopping experience to the user.
We offer intelligent features where considering the customer's purchase history, they get products suggestions which ensures more business for you.
We offer features like comparing different brands and products to help the customer make an informed decision while making a purchase.
We use the space on the web page intelligently eliminating every possibility of confusion of the user.
We use high-quality images, products videos to create a positive impact on the customers.
We also offer social media marketing features to promote your e-commerce website.
We use AI algorithms to create wonderful effect and help in improved customer conversion rate.
V1 Technologies Offer Secure Payment Transaction
The most important aspect of an e-commerce website is the security aspects. It involves customers' personal data as well as banking information, securing these data in the best possible way is a must. Our team of developers uses advanced security layers to create a safe payment gateway integration on the website. We offer multiple payment methods such as using Credit Cards, Debit Cards, Net Banking facility to provide more flexibility to the customers while making a purchase. We at V1 technologies ensure that each e-commerce web project undergoes multiple testing phases to ensure the flawless functioning of the e-commerce website.