A Detailed Insight on Social Media Marketing for Business Upliftment
Date :12, Apr 2023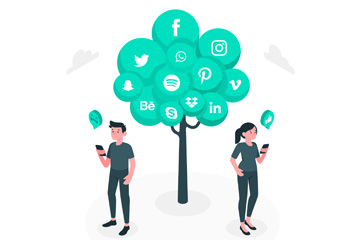 Social media marketing is the practice of promoting goods and services using social media websites and platforms in order to reach audiences. SMM may aid in establishing your business's brand, boosting website traffic, and enhancing revenue. The main advantages of social media marketing, according to Statista, are greater visibility, more traffic, and more leads.
You can increase the number of people who see your brand and create a devoted consumer base. With the help of a professional digital marketing company in New York, you can expect a lot of benefits, such as improved website traffic, audience engagement, and brand awareness. However, companies that don't utilize social media marketing effectively are losing out on a potential asset for their overall marketing plan.
1. Strengthen your brand
Social media marketing, when done right, has a favorable effect on your brand. It help personalize your business while fostering loyalty, respect, trust, and authority. You may increase the credibility and trustworthiness of your brand by publishing material that highlights the real people behind it as well as actual customers.
Consumers prefer genuineness. Your company may distinguish out from the competition by putting the needs of its employees and customers first and living according to its core principles. Consumer importance of firm congruence with personal values increased by 74% in 2022, as per Sprout's Social research.
2. Get the audience involved
Social media is a terrific method to increase brand recognition, but it also gives businesses the ability to interact, answer comments, distribute user-generated content, and follow up with unhappy clients. Our digital marketing company in New York also believe that social media, as opposed to conventional media like radio, television, newspapers, and magazines, enables interactions between clients and companies.
Social media getting client opinions on your goods and services is simpler than ever. Any leading digital marketing company in New York may post fresh material, get quick feedback on the services your business offers, and see what customers are saying about your business on their accounts.
3. Emphasize client service
Although your business may have chat, email, and phone lines devoted to helping clients, social media is an excellent additional channel for communication. Also, a well-timed and considerate response demonstrates to your larger audience that you are paying attention to comments and responding because social media criticism is by its very nature highly public. Offering a solution to a dissatisfied client not only enhances the likelihood that they will do business with you again, but it also demonstrates to other customers the quality of service you provide, fostering trust and loyalty.
It's crucial that consumers may ask for assistance through social media and be directed to the appropriate department or person, even when the relevant department or person may not be the one publishing the messages.
4. Effect on conversion rates and sales
Sales and conversion will increase as a result of a successful social media marketing campaign for your company or a particular product. Of course, that is the ultimate aim of any marketing expenditure.
The typical individual spends 147 minutes, or over two and a half hours, every day on social media, even though many of the leads generated by social media are thought of as top-of-funnel. This implies that a lot of people will see your material, and if it's good, it may even convince them to buy anything.
Conclusion
Social media marketing offers a variety of advantages, including audience engagement, brand awareness, customer service, competition or industry analysis, and ROI generation. Our digital marketing agency in New York will make a list of the top perks that sound most beneficial to your brand, then rank them in order of priority to get started right away.